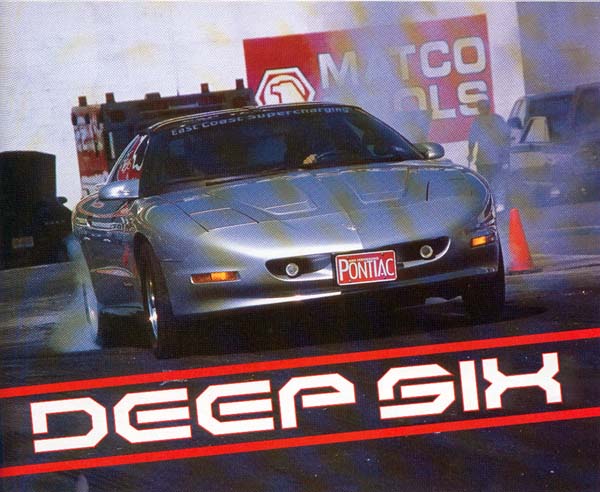 Is this nitrous-assisted 12-second V6 American's fastest?
By Rick Jensen
Photography by the author and Thomas A. Demauro
(from February 2003 issue of High Performance Pontiac)
There is something unnaturally satisfying about taking a small motor and making it really fast. The most popular example of this tactic is the Buick/Pontiac Turbo V6s produced in the late 1980s - with these boost-happy hills, 12 seconds for beer money wasn't just possible, it was expected. But GM engines with such huge potential don't come around often, and V6 owners, who are faced with smaller aftermarket and a more difficult time of extracting horsepower, are usually relegated to waterboy status by their V8-powered brethren at the local track. Most V6 owners accept this along with the benefits of better fuel economy and a break from crushing insurance fees - but not Westwood, New Jersey resident James Dowles.
Dowles, a Mercedes-Benz employee by day, already had a quick '72 Chevelle to run around in and was looking for a daily driver. His mom was leasing a 1997 V6 Firebird, and the contract was set to run out in the summer of 1998. Since it was 'cheap, convenient, and dependable transportation,' James decided to buy the silver Bird. A Lingenfelter Super Tube and a K&N filter were bolted in before the car was officially his, and he started thinking seriously about modifying his new ride. But it would take more than a couple of intake tricks to silence his pessimistic friends.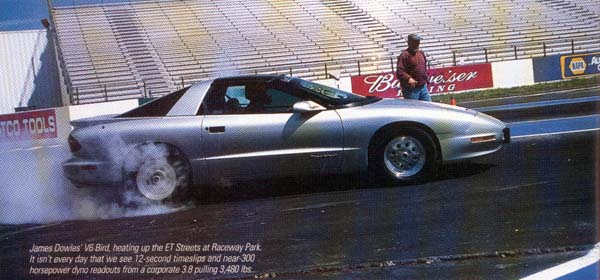 "Everyone told me that a 6-cylinder would never be fast," the 25-year-old begins. "Of course, everyone know about the GNs and the Turbo T/As, but those were the exception. All of my car nut friends were saying that I had no chance in making the Firebird fast. I wanted to prove them wrong so I just said, 'We'll see.'"

The filter and tube were a good start to his crusade, but when James started making phone calls regarding other bolt-ons, he was in for a rude awakening.
"I got used to hearing, 'That's a V6, we don't make parts for those,'" Dowel laments. A painfully slow 16.7 elapsed one day at the track, sloth-like even for a 3.08-geared V6, and James knew that a long road lay ahead of him.
Eventually and through much trial and error, he was able to purchase a full exhaust, a set of 3.23 gears, headers, a gutted cat, a new SLP intake, and many suspension parts. The ETs started to drop, but not in the chunks that he was hoping for. James turned to a local shop to have the heads ported, then purchased an Accufab fuel pressure regulator to compensate for the head work. The computer was set out to Superchips, and they richened the air/fuel ration and got rid of the 118-mph speed limiter. Still, high 14s were as quick as Dowels could go.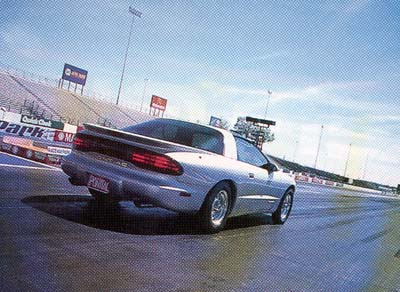 Thanks to a prepped track and a 3600-stall Pro Yank converter, Dowles was able to pull sub-1.70 60-foot times with hi juiced Bird. That's 362 lbs.-ft. at the wheels doin' the deed, and his cohorts swear they see light under that front tire.
"Going 14s all-motor was the hardest thing I ever did," James reveals. "It took a trip to Cecil County to pull it off - for some reason, I could never do it at Englishtown."
Low 15s were the norm at Raceway Park, but it wasn't long before a nitrous-sporting friend took him for a spin. James was impressed enough to give the gas a shot, and as soon as he installed a dry 85-horse kit on the L36, the silver Bird went 13.6. Dowles liked the ET but wasn't impressed with that small of a kick, so he soon bumped it up to a 120 shot. A 13.4 was recorded on street tires with nitrous kicking in at the top of first gear and the Auburn rear begging for its life.
James was getting a ton of wheelspin on the juice, so he added a set of 245mm Nittos into his suspension formula. Since the stock fuel pump had on its own up to this point, Kenne-Bell's Boost-A-Pump was added to increase the fuel pressure. These changes, along with a high-flow cat, pushed the Pontiac to a 12.8 ET at 104 per hour. Unfortunately, on of the factory 19-lb. Injectors started to go bad on him, and a replacement set of 24-pounders tricked his computer into creating a lean condition on the top end. Within a month the fuel-starved 3.8 dropped a rod, but James used this apparent setback as a new stepping stone."Tuning is how I've learned with this car. I drive it, I break it, I ask why - then I make it faster."
Dowles dropped the wounded Bird off at East Coast Supercharging to fix the motor and tie up a few loose ends - but the desire to build his mill right soon became a driving force.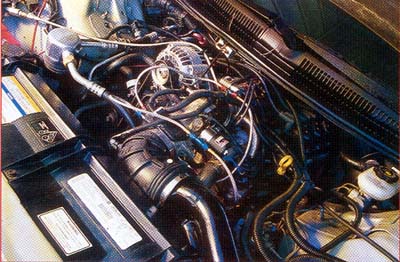 An over abundance of wire loom helps the 231-cubic-inch V6 conceal the TNT nitrous and fuel solenoids that feed the Bird. An SLP cold-air intake and a Home Depot ram air scoop provide the atmosphere needed for 104-mph quarter-mile runs. James likes to race with 100-octane in the tank, a wet 100 shot in the motor, the timing set to a stock 24°, and the fuel pressure at 46 lbs., with the vacuum line off.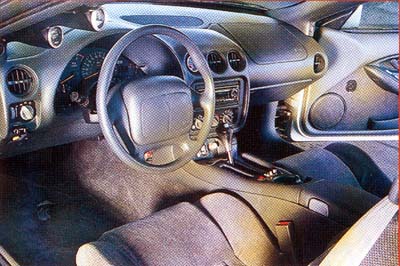 An A-pillar gauge pod holds AutoMeter air/fuel and B&M trans temp gauges, and a purge kit is mounted within easy reach.
"Once the car was at ECS, we started a huge transformation - first off, a curb had jumped out at me, so I had to change an A-arm. I did a group purchase on a new P&A K-member, so I picked up a manual steering rack as well. So when the motor came out, I had those parts installed.

"I had two choices with building the engine - I could rebuild my 3.8 to get by, or I could do it right the first time. The guys at ECS were suggesting the latter, so I found a good short-block in a salvage yard and brought it to the shop."

The crew at East Coast Supercharging inspected and passed the stock bottom end, which still retained the GM hydraulic roller cam with 182°/190° duration at .050 and .413/.408 lift. Then they got to work releavign the heads of a large amount of metal. James' heads were milled .010-inch, pocket-ported, and given a full 3-angle valve job before the stock 1.80/1.52-inch valves were reinstalled. The better-than-new castings were then bolted down with Fel-Pro head gaskets and topped with factory 1.6-ratio rockers.

"ECS took three full coffee cups of metal out of the upper and lower intakes and the heads," they have to be great for the fuel economy and the way this car will pull-through a stock MAF and 65mm throttle body, no less!"

The hyperactive V6 exhales through 1.75-inch RKSport heads, a Catco 2.5-inch cat, and a 2.5-inch Edelbrock cat-back. ECS suggested a converter to assist the rebuilt trans in getting the Firebird off the line, so James called up his folks at Yank, whom made him a custom converter that would exploit the nitrous system to its fullest. A 3.5-inch aluminum driveshaft from an LS1 sends power rearward to a TA-girdled rear, and ECS added poly trans and torque arm mounts, a BMR driveshaft lop, and P&A lower A-arms to keep those ponies corralled.
Dowles was eager to see what the corporate mill would push on the dyno, and he recorded 178 horses and 205 lbs.-ft. of twist on the motor. With the NOS bottle on and liquid horsepower flowing through his engine, an impressive 291 ponies and 262 lbs.-ft. found the3 rollers. James had accomplished what his peers said couldn't be done - and he set out to ram that point home.

"When I finally got the Firebird tuned correctly for the nitrous, I went down the list and beat everyone who said this car would be slow," James recalls. "This thing pulls so hard down low that most of the races were over long before I shifted into high gear. Now I'm known as 'that guy with the nitrous six-cylinder' and nobody except the really fast guys will race me."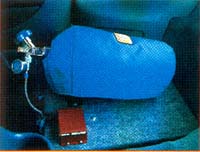 The NOS bottle is comfy with its blanket and warmer where the back seat used to be. Kenne-Bell's Boost-A-Pump zaps the fuel pump for 15 percent more petrol when James is on motor only, 50 percent more on the go-juice.
We had heard about the Firebird's sniffing problem and were impressed with the numbers it produced, so the staff of HPP invited James down to E-town so we could see it run first-hand. His project is always in flux, evidenced by his recent conversion to a custom 100-horse TNT wet nitrous system. He showed up with a set of 26x11.5-inch ET Streets and a full nitrous bottle, and after a few adjustments and a good burnout, he showed us what that V6 could do.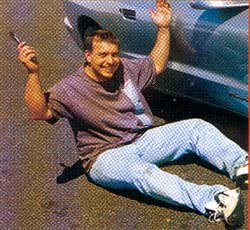 James' Bird was plagued with two major problems on test day - the trans was slipping badly and his fuel solenoid started to give out.
Regardless of those setbacks, he pulled a neck snapping 1.63 60-foot time en route to a 12.6 at 104 - with rebuilding the tranny and a new solenoid, he's hoping for 12.2s on the juice.
James ran into a couple of problems that day, the most notable being a malfunctioning fuel solenoid that made the Bird lay down on the big end. However, a 1.63 60-foot time was recorded en route to a 12.6 ET at over 104 miles an hour. A couple of hours of troubleshooting were all for naught, and a slipping tranny urged him to retire and fight another day. A new trans from RPM Transmissions, a replacement solenoid, and a 255-lph fuel pump will be installed before James heads to the track again. He is aiming for a 12.2 ET with available traction, and this time, no one is doubting his predictions.

"I've come a long way from a mid-16-second Firebird and it has been a great experience. Most of the problems have been ironed out, and I know my six has a 12.2 in it. As soon as I have the fuel pump, we'll find out.